It's February, and once again our thoughts turn to love, romance, and all things generally smooshy!! Yes, Valentine's day is fast approaching and I have some ideas for you using the versatile Brush Hearts set of polymer stamps from Skull and Cross Buns.
This first card is for the minimalist in us all – Clean and Simple: 3 stamped and embossed heart 'ballons' tied with twine. A simple sentiment and doodled border finishes off the card.
Next up – full on girly romance! Shades of pink and red with layered stamping in the background, creates warmth and depth in this traditionally coloured card. All that's missing is some glitter – why not put a handful of confetti inside to shower your beloved with sparkle!!
Somewhere between the first two cards lies this one – a fresh layout with a splash of vibrant colour. Layered hearts create a tissue confetti effect in this geometric design.
How about something pink and red but not too girly?? This fun design hits the mark.
Finally a totally non-traditional take – cool blues and greys create a subtle backdrop to these 'flying' love letters. Some die cut wings and mini heart buttons add a fun twist to this card:
Thanks for stopping by today – take a look at the links below!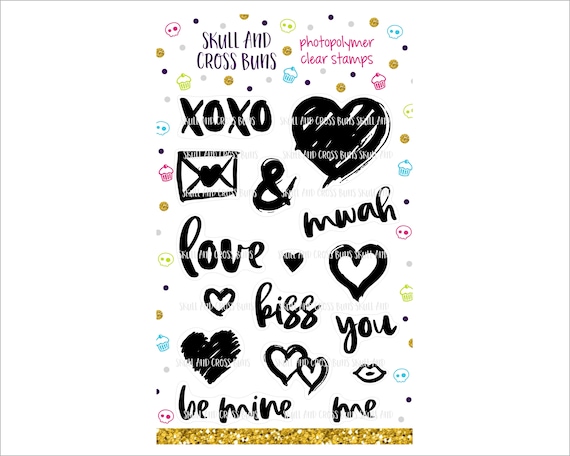 Skull and Cross Buns Facebook Group
Skull and Cross Buns Etsy Shop